2024:
Same Sun, New Science!
Did you submit an application for a 3-D printed equatorial mount? Click here to see if your response is included in this list of submissions without an email. We need your email to contact you about your mount! If you see your response, please copy and paste it in an email to Hannah at Hellmanh@sonoma.edu. Thank you!!
Welcome! Eclipse Megamovie 2024 (EM2024) is funded by NASA to study the sun's atmosphere (corona) during the April 2024 total solar eclipse. We will use citizen scientists to gather visible light data to better understand the density of the changing plasma in the sun's atmosphere.
If you have a DSLR camera and a tripod, you can participate! To learn more about the history of the Eclipse Megamovie project, solar eclipses, and how you can contribute to real scientific research of the sun, scroll down.
Current photo credit:
NASA/Aubrey Gemignani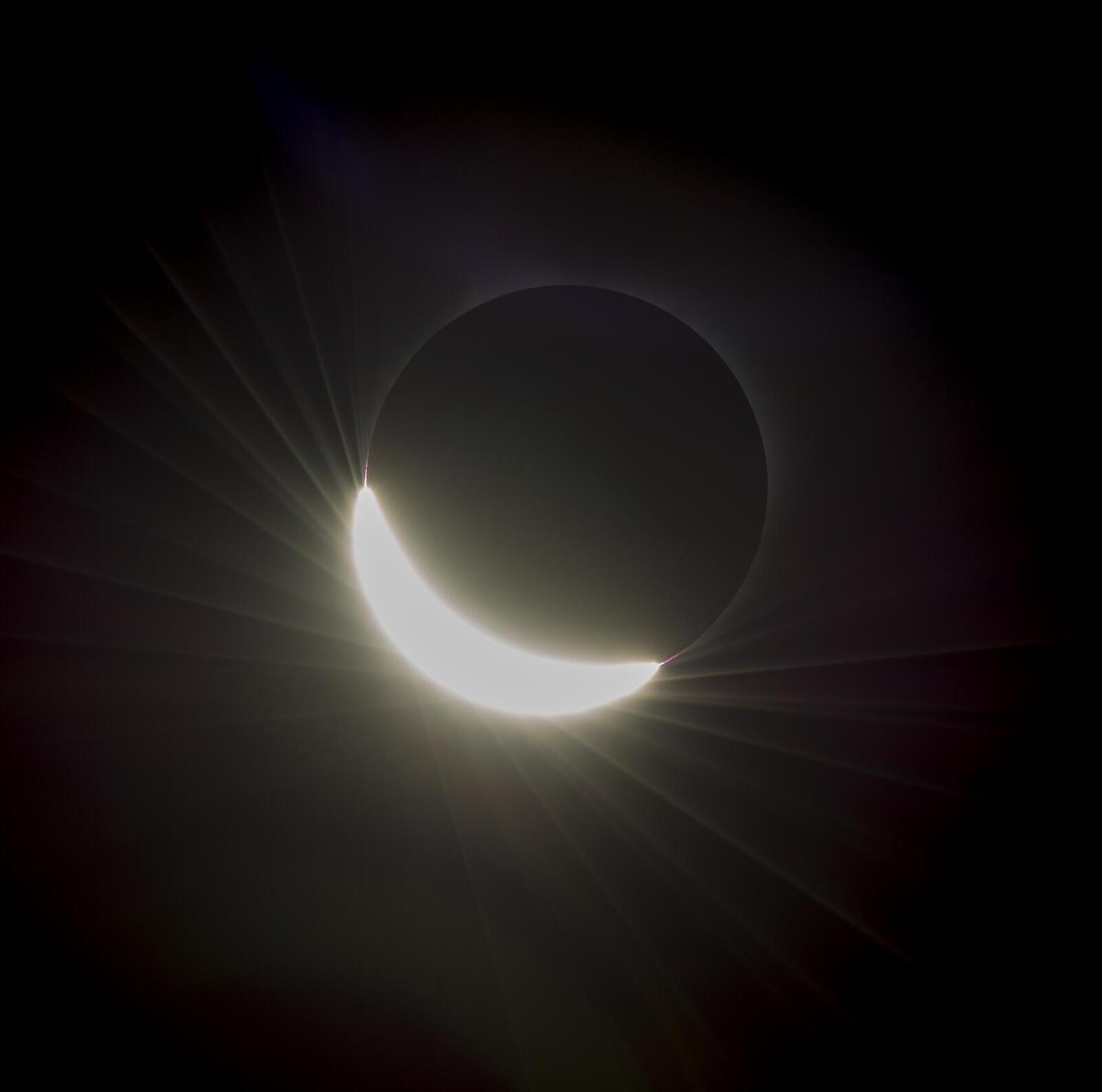 Eclipse Megamovie Documentary
Chasing Totality

: Making the 2017 Eclipse Megamovie

On August 21, 2017 - a total eclipse stretched across the United States for the first time in almost 100 years. Google partnered with UC Berkeley and The Astronomical Society of the Pacific to document it by creating the first-ever Megamovie. Over 1,300 citizen scientists spread out across the path of totality with their cameras ready to photograph the sun's corona during the few minutes that it would be visible, creating an open-source dataset that can be studied by scientists for years to come. Learn about their efforts, and catch a glimpse of totality, in this video. Spoiler alert: for about two minutes, it gets pretty dark out.
Project History
The Beginning
In 2011, Dr. Hugh Hudson from the Space Sciences Laboratory at the University of California, Berkeley, led a group of well-established solar scientists and educators, including renowned solar eclipse expert Dr. Jay Pasachoff, in proposing the idea of the Eclipse Megamovie Project. From this beginning, the basic idea of the project has always been "to incorporate as many images as possible [of the total solar eclipse], provided by a diverse range of observers using standard photographic techniques, into an overview movie." The idea of the Megamovie has now been discussed by many other members of the astronomy community; out of these discussions the current team was formed.
EM2017
The "Great American Eclipse" in 2017 offered a unique opportunity for US citizens across the entire continent to experience the awe-inspiring changes that occur during rare total solar eclipses (TSEs). The goal of the 2017 Eclipse Megamovie was to obtain enough pictures of the Great American Total Solar Eclipse to create a movie of the solar corona in order to better study it. Over 2,000 volunteers submitted 50,000 images and a movie was made only a few hours after the Moon's shadow left the U.S. A few months later another, better aligned and more closely edited, movie was released. The Eclipse Megamovie team of scientists processed images to create High Dynamic Range (HDR) images to capture the structures within the high dynamic range of the solar corona from the Sun's photosphere out ~3 solar radii.
This first-of-its-kind citizen science project resulted in a collection of tens of thousands of photos submitted by hundreds of volunteers from locations across the United States during and after the August 21, 2017, total solar eclipse. A team at the Space Sciences Laboratory (SSL) at the University of California, Berkeley stitched these images together to give us an extended look at the Sun's atmosphere. The resulting video was completed in September 2018 by UC Berkeley graduate student Juan Camilo Guevara Gomez with assistance from undergraduate Tushar Singla.
The primary goal of the Eclipse Megamovie Project 2017 was to produce a high definition, time-expanded, video of the total solar eclipse that crossed North America from the northwest to the southeast on August 21, 2017. The Megamovie video was pieced together from images collected by citizen scientists at various points along the eclipse path. This provided a continuous dataset that far exceeded what any one person could capture from a single location. We learned many lessons from the Eclipse Megamovie 2017 project, including a better understanding of what is required for high definition, and beautiful images of the solar corona.With our new knowledge in hand, we are ready to initiate Eclipse Megamovie 2024 (EM2024). The goals of EM2024 are to characterize transient plasma features in the solar corona while improving the quality of the Eclipse Megamovie aesthetically.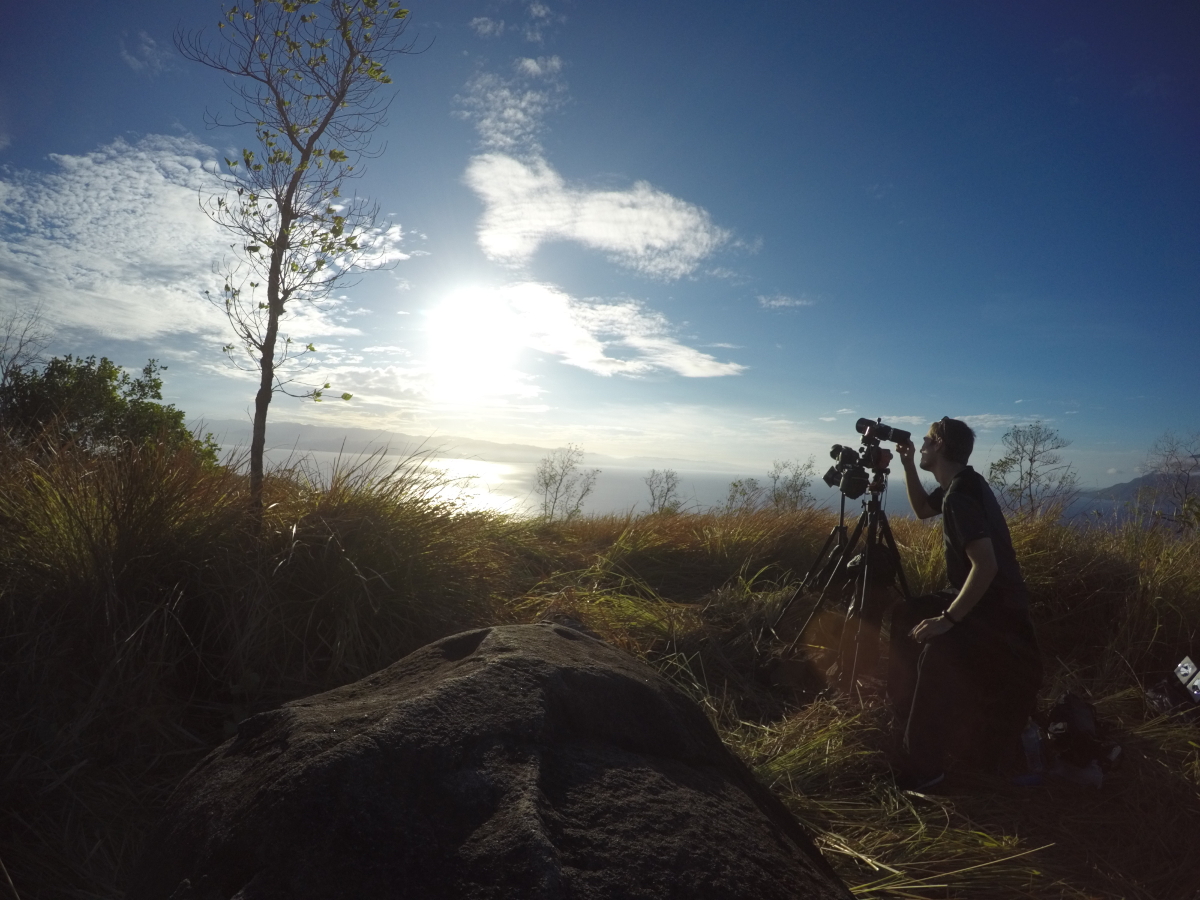 Photo by James McClean, CC BY-NC-ND 4.0
Who
Are
We?
We are a team of passionate
Scientists
Educators
Enthusiasts
& soo much more!
We are a team of astronomers, physicists, educators, developers of curriculum, volunteers, eclipse chasers, citizen scientists, and skywatchers. We are brought together by the wonders of the natural world and together we experience, savor, and study an event that lasts minutes, but stays with us for ages. We are the Eclipse Megamovie team, and we welcome you back for the April 8th, 2024, total solar eclipse! If you want to be involved in more NASA volunteer projects?Check out our Other Opportunities page to see how you can participate in other exciting volunteer work!
Safety

First!

Please make sure to view any total solar eclipse safely and never look at the Sun without protection, such as the solar viewing glasses pictured here. Many science museums, libraries, and astronomy clubs are distributing or selling eclipse viewing glasses.

Solar viewing glasses can also be purchased directly from manufacturers like Rainbow Symphony and American Paper Optics, and B&H Photo Video.

But no matter where you get your eclipse glasses, you must know how to use them properly.

Here are some tips from the Megamovie team:
Make sure to read, carefully, any instructions that come with your glasses.
Before you put the glasses on, make sure that the black plastic within the paper frames is not scratched or broken. Carefully check any glasses that children will be wearing as well.
Make sure that the glasses fit snugly behind the ears and won't fall off. Try moving your head around and walking a little before you look at the Sun. Again, make sure any children under your supervision also have their glasses on snugly.
It is never safe to look at any part of the bright Sun without the eclipse glasses (see below for additional details).
With the glasses, you can look at the Sun safely for as long as you want. If the Sun is partly eclipsed, or has large sunspots on its surface, these glasses are ideal for viewing.
Note that these glasses will not be able to protect you if you look at the Sun through a telescope without a certified solar filter attached to it.
When do you need to wear the glasses?
You need to wear the glasses whenever any part of the bright Sun is visible.
If you are on the path of totality, you can remove your solar viewing glasses during, and only during, the brief moment of totality when the Sun is completely blocked out by the Moon
Can I use the glasses when there is no eclipse?
Yes, you can view the Sun any time with the glasses (but check them carefully each time before you use them to be sure there are no cracks or other damage).
When the Sun is not eclipsed, there are still things to look for. For example, when there are big groups of sunspots (dark, cooler areas) on the Sun, you can see them on the Sun's surface.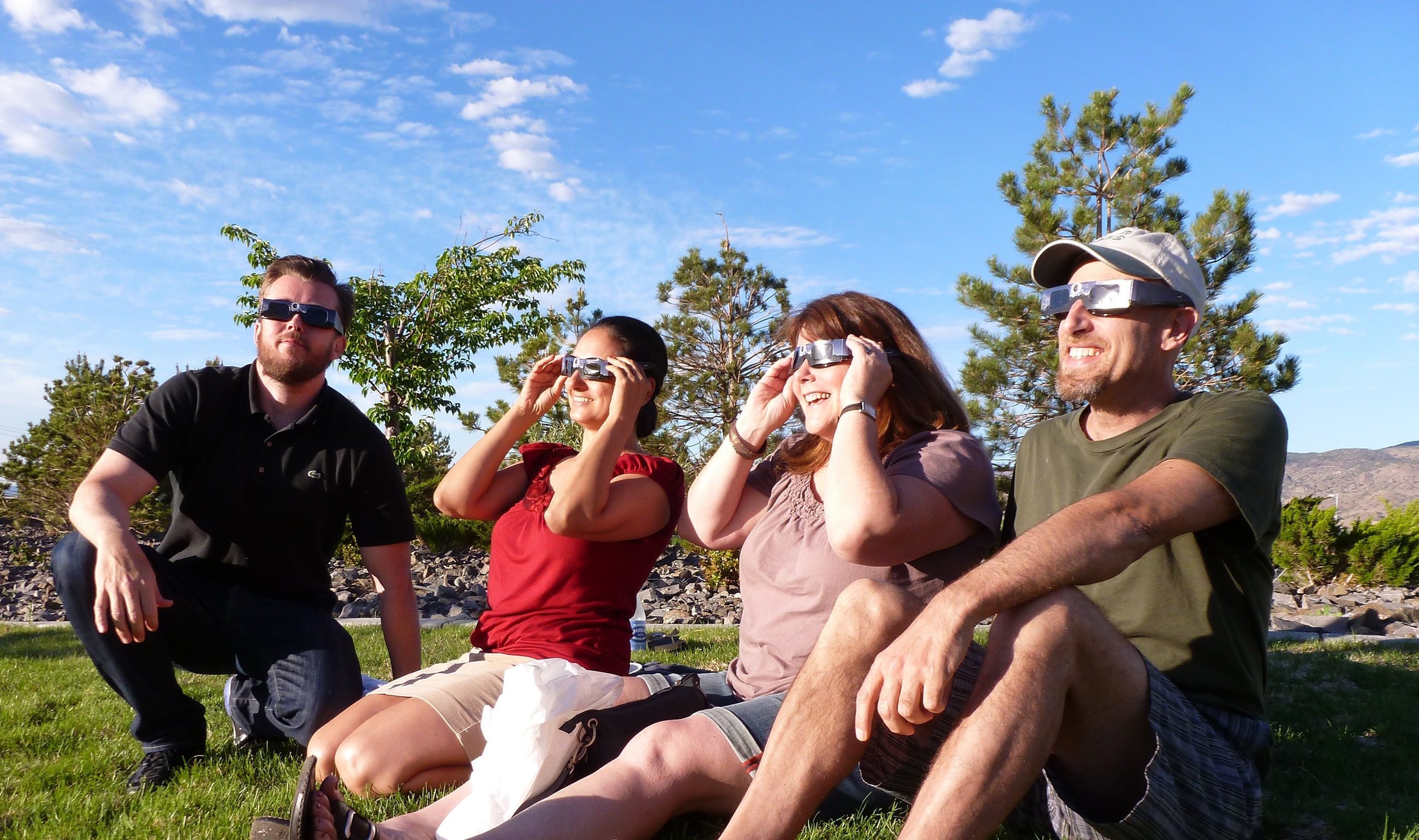 Photo by Nancy Alima Ali, CC BY-NC-ND 4.0
Simulate
The
Path
Experience The Eclipse With The Stellarium Web App
Simulate the path from anywhere, in or out of the path of totality